<![if !ppt]><![endif]>

Orientation and Unified Models

•

"Unified Models" explain some of the different classes of AGN, particularly type 1 and type 2 Seyferts, via orientation.

•

For specifics, see the Annual Reviews article by Antonucci, 1993, a "bishop" in the "Church of Unification."

•

Another nice website: http://www.mssl.ucl.ac.uk/www_astro/agn/agn_unified.html

<![if !vml]>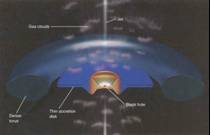 <![endif]>

As we have discussed, inner AGN structure believed to feature a black hole fed by an accretion disk.

 

Jets may emerge along the spin axis, and the disk illuminates BLR and NLR clouds.

 

A dense molecular torus exists on larger scales and can obscure the central engine from certain lines of sight.